So, xen is really beginning to piss me off. I turned off all my machines to do a snapshot, and when I tried to bring them back up, they were all in the 'blocked' state. Upon further investigation (using virt-manager/xm console), I found that they were hung at the "Checking for hardware changes" item in their boot process. This could be a CentOS/RHEL 5 issue, but I'm putting my money on xen.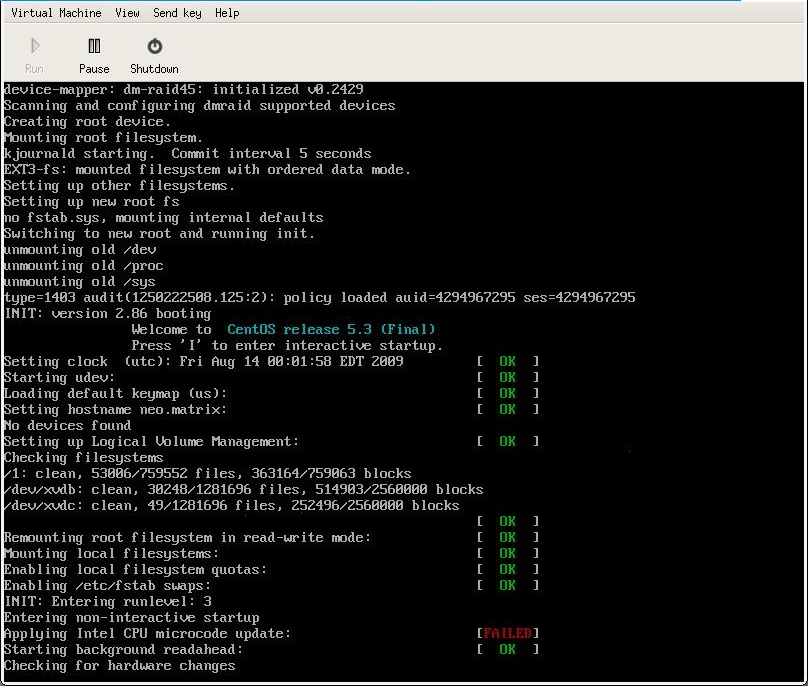 To fix it, I did the following:
Mount the DomU image somewhere on my Dom0's filesystem
'wipe' the /etc/init.d/kudzu script in the DomU
unmount
re-start the DomU
Note: This effectively prevents kudzu (the RHEL mechanism to detect hardware changes) from starting on boot. Beware that this is probably a terrible idea; I have no idea what the implications of preforming these actions will have on your system. I *do* know, however, that it got my machine to boot!

[root@dom0 /]# xm list guest
Name                                      ID Mem(MiB) VCPUs State   Time(s)
guest                                       17      511     1 -b----     26.2
[root@dom0 /]# xm destroy guest

[root@dom0 /]# ls /dev/mapper # no loop devices
control
[root@dom0 /]# kpartx -av /var/lib/xen/images/guest.img
add map loop1p1 : 0 6072507 linear /dev/loop1 63
add map loop1p2 : 0 2104515 linear /dev/loop1 6072570
[root@dom0 /]# ls /dev/mapper # note the loop devices
control  loop1p1  loop1p2
[root@dom0 /]# mkdir -p /tmp/mnt/tst
[root@dom0 /]# mount /dev/mapper/loop1p1 /tmp/mnt/tst

[root@dom0 /]# cd /tmp/mnt/tst
[root@dom0 tst]# ls
bin   dev  home  lost+found  misc  net  proc  sbin     srv  tmp  var
boot  etc  lib   media       mnt   opt  root  selinux  sys  usr
[root@dom0 tst]# cd etc/init.d
[root@dom0 init.d]# mv kudzu kudzu.original.20090815
[root@dom0 init.d]# echo "exit 0" > kudzu

[root@dom0 init.d]# cd /
[root@dom0 /]# umount /tmp/mnt/tst
[root@dom0 /]# ls /dev/mapper # note the loop devices
control  loop1p1  loop1p2
[root@dom0 /]# kpartx -d /dev/loop1 # (loopX as seen from the above command)
[root@dom0 /]# ls /dev/mapper # no more loop devices!
control
[root@dom0 /]# xm create guest
Using config file "/etc/xen/guest".
Started domain guest
</code>

I booted successfully! Hope this helps someone…