This website is now accessible on the darknet. And how!
Why
Fun fact: the most popular website on the darknet is facebook. There are hundreds of other popular sites on the darknet, including debian, the CIA, the NYT, the BBC, ProPublica, and--now--michaelaltfield.net.

michaelahgu3sqef5yz3u242nok2uczduq5oxqfkwq646tvjhdnl35id.onion

All of these organizations chose to make their websites available over .onion addresses so their website will be accessible from millions of daily tor users without leaving the darknet. Besides the obvious privacy benefits for journalists, activists, cancer patients, etc -- Tor has a fundamentally different approach to encryption (read: it's more secure).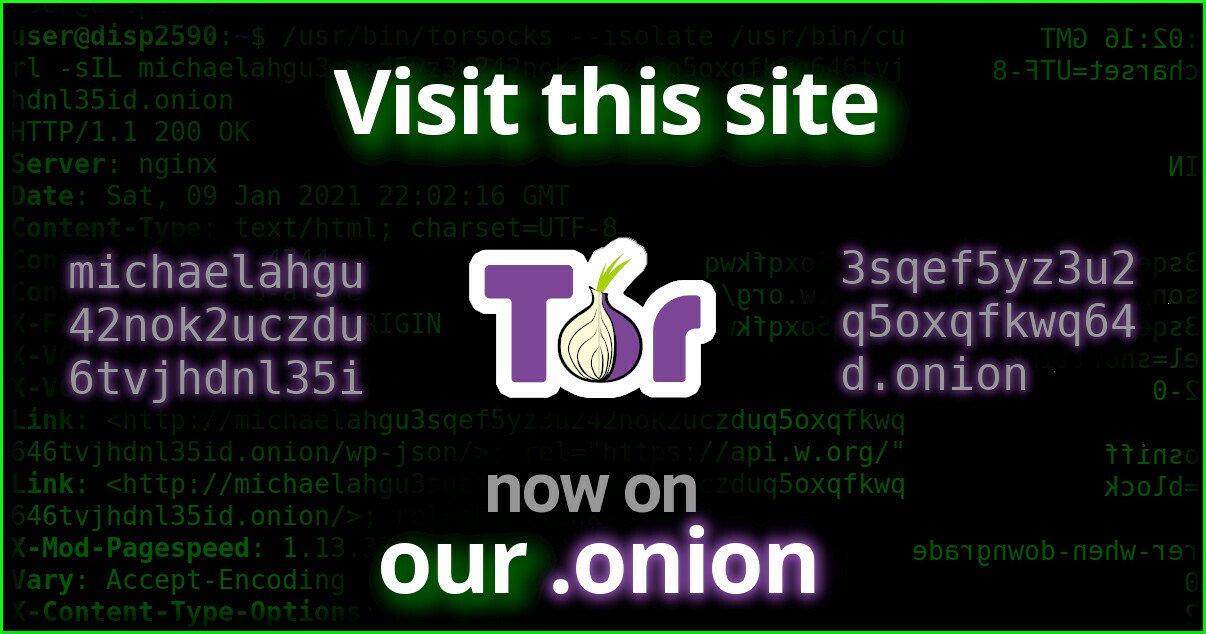 Instead of using the untrustworthy X.509 PKI model, all connections to a v3 .onion address is made to a single pinned certificate that is directly correlated to the domain itself (the domain is just a hash of the public key + some metadata).
Moreover, some of the most secure operating systems send all the user's Internet traffic through the Tor network -- for the ultimate data security & privacy of its users.
In short, your users are much safer communicating to your site using a .onion domain than its clearnet domain.
For all these reasons, I wanted to make all my wordpress sites directly available to tor users. Unfortunately, I found that it's not especially easy to point a .onion domain at existing wordpress sites. For more information on how to make an existing wordpress multisite accessible on a .onion domain, see my article titled "WordPress Multisite on the Darknet"
Statement

-----BEGIN PGP SIGNED MESSAGE-----
Hash: SHA512

Date: 2021-01-13

I, Michael Altfield, am happy to announce that my website is now accessible 
directly from the tor network at the following v3 Onion Service:

  http://michaelahgu3sqef5yz3u242nok2uczduq5oxqfkwq646tvjhdnl35id.onion

All of my clearnet subdomains are also accessible as subdomains on the above 
.onion address. For example, tech.michaelaltfield.net is accessible at the 
following v3 Onion Service:

  http://tech.michaelahgu3sqef5yz3u242nok2uczduq5oxqfkwq646tvjhdnl35id.onion

If I have reason to believe that this vanity address' private key has been 
compromised, then the .onion addresses listed in this message will necessarily 
change. For updates on potential changes to my .onion addresses, visit:

  https://tech.michaelaltfield.net/onion


Cheers,
Michael
https://www.michaelaltfield.net
PGP Fingerprint: 0465 E42F 7120 6785 E972  644C FE1B 8449 4E64 0D41

Note: The above message was last updated & cryptographically signed on 
2021-01-13
-----BEGIN PGP SIGNATURE-----

iQIzBAEBCgAdFiEETSFov343j4FFQAEg+FUO1ULCyRkFAl//c68ACgkQ+FUO1ULC
yRk6cQ/7BGaRmw4Z60WcOHzee5b2tz0iY1/cIvdrkcJI9/cPW2p46kbjWI8bsG/c
GqFsGcM/nqWLpJ/E/CAQj1Fxw9ADfklcXCw2vd2uzZhi9PSVOKRCsmxSnIwzxD6V
9rW/hvIFeavaePDSj+JN9cVHr2/Pc2ss+Dit0v7KvWJheLePkPfEHfA5KzXsfHy1
/Cuvj6aSxIR9HMfcyPHpUy8lqZoF5YmtsE9aBSfsZnEoyKbfa/cvXHt+5sRqkYP3
Y6/uFK1C4JxH4MApGB8ohswTqcNLLiRbqSUi1qZRjh0GtG58mpt7+sAXu3l/KVZH
nUl6mwhRduELYlfkY2/AhLiACVpFxQCjuhGO0MqeiLGNB92kuTmLUEK71bLdSn0w
wrFU1HS6QkYeNmwRephVXSs1bqcQ78vm/T2S5Fiy0+q0YuwgdJ4n5odMOLC2IhON
cf4FORPWVVUHOCXjjDq4EuvJ8aPE+n+HGiShyB4o1v9wH3WpAH5fa5vpbbP5smy8
qGyxCvanjxmjaTuxwG4afeThF0keKp/0QKO7bJQLlfe1TzEXPpo+afwmBiAX7dTw
mmLQJ6YrfDITow42mGYNkQUyREVv4QI6BF8lerAfB7om2ze3wxyJmWHui6XUvbP4
rGYtxg53Hb9esgwG11NOfRxg1iT2MA335oNCng9PAnzL9gegNxg=
=Nn8a
-----END PGP SIGNATURE-----

Related Posts