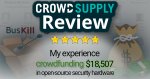 In 2021, I raised $18,507 on CrowdSupply to manufacture and sell the BusKill cable. This article will review my experience working with Crowd Supply.
Introduction
So you have a great idea for a cool product, but you're not sure how to scrap up the necessary funds to ramp-up production and sell it? If you're a traditional capitalist then you'd be considering financing your new entrepreneurial venture through loans or venture capital.
But you're not a capitalist. You want to avoid the fat cats draining equity from your hard labor. Your idea is so cool, why not try your hand at crowdfunding direct from your soon-to-be customers?
Why Crowd Supply?
The first place I looked was Kickstarter. But I did some googling, and I saw so many people complain that they backed a project on kickstarter and never received anything from the creator. In fact, Kickstarter's own Fulfillment Report says that 9% of all their projects fail to deliver.
And, especially in the computer security department, if anyone with half a brain scans through the projects on kickstarter, even the ones that raise $1 million scream SCAM! Either their promises are unrealistic, they clearly have no idea what they're talking
. . . → Read More: Crowdfunding on Crowd Supply (Review of my experience)