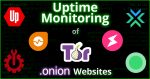 This article will present a few simple website availability monitoring solutions for tor onion services.
Problem
So you've just setup an Onion Service for your website, but how often do you actually check that it's working? Maybe it's a .onion alias to an existing website, and you usually only check it on the clearnet. What's to prevent the darknet presence of your website from going down for weeks without you noticing?
Indeed, it's important to monitor your .onion websites so that you can discover and fix issues before your customers do. But how? Most of the popular uptime monitoring solutions (pingdom, freshping, statuscake, etc) certainly can't monitor .onion websites.
This guide will enumerate some solutions for monitoring .onion websites, so you get an email alert if your site goes down.
Michael Altfield
Hi, I'm Michael Altfield. I write articles about opsec, privacy, and devops ➡
About Michael

. . . → Read More: Monitoring Tor .onion Websites (uptime alerts)